Value-driven Investments
Real estate is the foundation of wealth for 4 out of 5 millionaires. At HappyNest, we're driven by helping you achieve your financial goals through our commitment to quality investments.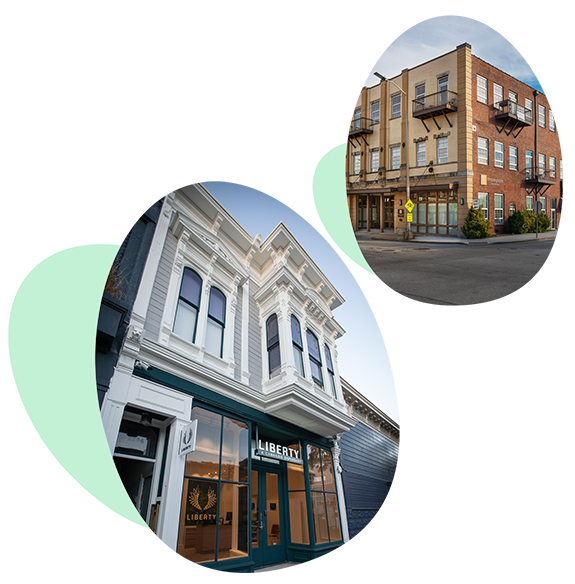 Quality Over Yield

The HappyNest Approach
HappyNest is committed to growing a diversified commercial real estate portfolio that focuses on single-tenant net-leased properties with short to mid-term leases, along with other well-timed investments.
We aim to deliver a balance of stable cash distributions and asset appreciation by securing properties leased to pandemic and internet-resistant businesses.
Our investment portfolio now includes multi-family and industrial properties, effectively reducing market risk, increasing long-term returns, and providing stability for our valued investors.
Welcome to Your Future Portfolio
A Snapshot of Our Portfolio Highlights
1. Optimized Returns:
Targeted IRR: 12-15% Annualized Returns
2. Impressive Portfolio Size:
Over 1 Million Sq. Ft in Properties
3. Diversified Investments:
15 Unique Properties & Growing
4. Long-Term Stability:
Average Weighted Lease Term: 10 Years Remaining
5. Investment Lifecycle:
Typical Hold Period: 3-5 Years
6. Recent Dividend:
Last Dividend Paid: 05/04/2023
Important Note to New Investors
Our investment strategy focuses on holding real estate for an extended period to fully capitalize on the benefits of property value growth.
Read Our Offering Before Investing
*Investors with short-term objectives or those who may need to liquidate assets quickly should consider investments with higher liquidity.
Real Estate for Real People.
A portfolio designed to deliver attractive risk-adjusted returns regardless of market conditions.
Some of your new tenants:

Kelsey Apartment Homes
The Kelsey Apartment Homes at Scofield Farms: May 2023 Construction Update
Pre-Leasing Begins Soon!
Our fund deployed an investment in the Kelsey Apartment Homes at Howard Lane development in the Austin, TX area. Bonner Carrington, the developer of the Kelsey project, provided us access to this Class A 383-unit apartment home development in one of the fastest-growing suburbs in the country.

Construction Progress:
Framing of the Clubhouse and Buildings 1 through 5 (Phases I and II) is well underway, with the commencement of framing for Buildings 6, 7, and 8 (Phase III) scheduled to start this month. All project utilities and retention ponds are fully completed, with ongoing construction progress evident in the attached photos. Projected completion remains on track for the Clubhouse in June and the first residential building in August, with the entire project estimated to conclude in Q1 2024.
Interested in learning more?
CVS Pharmacy
New Disposition Announcement – 01/06/2023
(~15% IRR in Less Than Three Years)
On December 30, 2022, HappyNest sold the CVS Property located at 110 Northampton St in Easthampton, MA for $6,000,000. After paying off $3,540,000 in loans and $200,000 in closing costs, the net profit was approximately $2,260,000. HappyNest's final share from the sale was around $306,000, resulting in an estimated 15% return in less than three years. The company held a 13.548% shared ownership in the property, with an initial investment of $250,000.
Cannabis Real Estate Fund
New Acquisition Announcement – 07/13/2022

(Five New Property Acquisitions!)
We're happy to announce our Partnership with Rainbow Realty Group in Cannabis Real Estate Fund II, which provides HappyNest REIT's shareholders with exposure to cannabis-related real estate transactions.
Rainbow Realty Group has an unbeatable reputation and first-class financial backing through Gould Investors LP, NYSE: BRT, NYSE: OLP. They have over 60 years of experience in the real estate industry.
You can expect a lot more exciting acquisition announcements to follow!
Our Founder explains why we decided to make this investment